Bank of NH Pavilion | Gilford, New Hampshire
Singing 'fancy like, oh!', country-pop star Walker Hayes just announced his newest headlining tour – the Duck Buck Tour, promising to be his biggest yet. Coming off fresh from a hit new album and his first-ever arena tour, Hayes is taking it to the next level as he welcomes the new year with another headlining tour kicking off this spring. Joining him are special guests Ingrid Andress and Ray Fulcher on his special show at the Bank of NH Pavilion on Friday, 2nd of June 2023. Bringing his biggest hits, fan favorites, and new music to the live stage, make sure to save your seats at the Duck Buck Tour by booking your tickets now!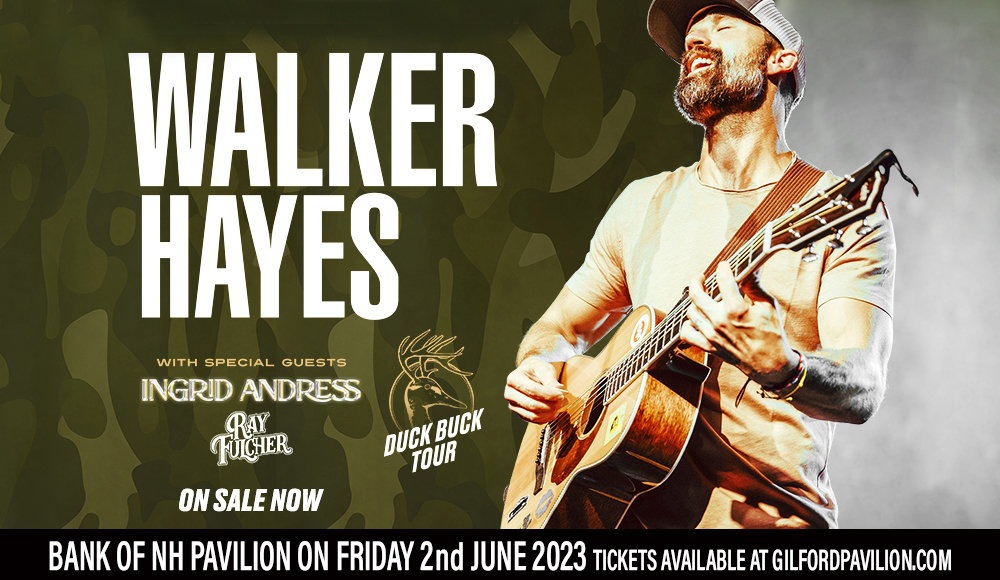 Dominating the global stage for his 2021 breakout hit "Fancy Like" going viral on TikTok, Walker Hayes shook the airwaves with catchy country-pop goodness. Coming off fresh from his first-ever arena tour in support of his third studio record "Country Stuff the Album", the man just announced his new headlining "Duck Buck Tour". The tour is named after the famous line from the album's title track "Country Stuff", "I Like shooting ducks and bucks" he sings. The trademark made its way to his merch, music videos, and social media channels.
Though a new name on the global stage, Walker Haye's career dates back to 2010 when his first single "Pants" hit #60 on the Hot Country Songs chart. Since then, Hayes has been working on honing his craft and making it big in the industry. Through ups and downs, Hayes, later on, found himself amassing widespread attention when his 2021 single "Fancy Like" made rounds on TikTok, hitting #3 on the Billboard Hot 100 and #1 on the Hot Country Songs charts.
As the man gears up to hit the road once again, Hayes promises that the tour will be his biggest and best yet. "I can't wait to get back out on tour," Hayes shared in a release. "Headlining an arena tour for the first time this past year was a dream come true. The whole family was able to come out and the road has become our new home away from home. All the fans that have come out or will come out are making this dream a reality. I owe it all to them, and this next tour will be the biggest and best. I don't take for granted that they spent their hard-earned money on my shows, and I plan to make it well worth It!"
Alongside his tour announcement, Hayes also shared his new single "Y'all Life", an emotional track where he shares losses, struggles, and getting through life's pains. Having lost his dad in 2021 and having gone through pains and struggles with his loved ones in previous years, Hayes shares that he's grateful to be alive in the emotional track.
"Laney and I have cried a lot," he told People. "But one thing that makes me the happiest is how much love there has been around us… People walk up to me and tell me their life, and it's like, geez, thank you for sharing. I don't even know these people."
As the man turns to brighter days ahead with all the love from his fans, make sure you don't miss out on the Duck Buck Tour by booking those tickets now!