Bank of NH Pavilion Information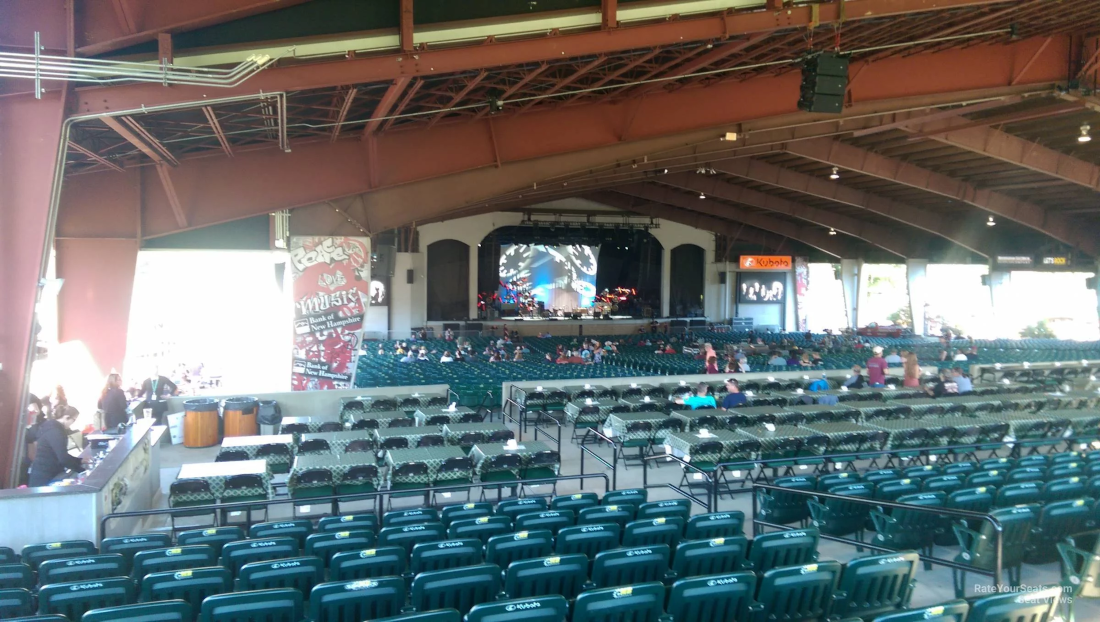 Bank of New Hampshire Pavilion started its life as Meadowbrook Farm, an outdoor amphitheater located near Lake Winnipesaukee in Gilford, New Hampshire. When it opened in 1996, it was humble featuring a temporary stage, 2,500 seats, and lawn space with room for 2,000 more guests to enjoy. The Miller family, original owners of the property, offered the space for summer vacations, weekend excursions, and general family entertainment. The Venue served for five years as a simple venue to serve the arts and entertainment needs of the community. But the beautiful land that surrounded the venue grew more popular with music lovers across the country, so it needed to expand. That expansion led to it being renamed Meadowbrook Musical Arts Center to reflect how most event managers used the space for concerts and similar musical events. The temporary stage was replaced with a permanent one, and major renovations were started in 2002 as the first major renovation the venue had ever held. Fans of Meadowbrook were pleased to see a pavilion roof installed over the facility, the addition of 3,097 reserved seats that could be removed for general admission shows, 540 reserved lawn seats, and 2,850 general admission lawn seats. It was clear to everyone that Meadowbrook was ready to make a big splash on entertainment.
Later, in 2006, Meadowbrook added a tented area with a full-service bar as a second stage that was primarily used for local bands to play so that concertgoers could enjoy music before or after the main concert event. The venue grew in popularity and soon, major companies competed for naming rights to the venue. U.S. Cellular won first naming rights to the venue, choosing Meadowbrook U.S. Cellular Pavilion, as the title of the growing music center. This was followed that same year by a nomination for "Venue of the Year" by the Academy of Country Music.
But Meadowbrook wasn't done growing yet, and in 2013 another major revision was started that added nearly 3,000 covered seats, two parking lots, and a second road leading into the venue. The amphitheater was then renamed Bank of New Hampshire Pavilion on April 2013.
There's no telling how far the pavilion will grow moving forward, but one thing's for certain. There's no stopping Bank of New Hampshire Pavilion from remaining one of the greatest outdoor amphitheaters in the country. Make sure you book your tickets to see the show, while supplies last.
See the links below for further information on the Bank of New Hampshire Pavilion:
Bank of NH Pavilion Parking:
Latest parking information and rules at the Bank of NH Pavilion.
Ticket Policies:
Latest ticket guarantee and authenticity policies.
Bank of NH Pavilion Seating Chart:
Bank of New Hampshire Pavilion seating chart and related seating information.