Bank of NH Pavilion | Gilford, New Hampshire
Music fans will surely be swarming the Bank of NH Pavilion this July 12 like Ants Marching to their colony as the legendary Dave Matthews Band returns to the iconic New Hampshire venue for the second and final night of an exhilarating show. Performing songs from their most recent album, "Walk Around The Moon," the band will set the stage on fire with their music filled with embellishments of rock, jazz, funk, and folk. Whether you missed getting tickets to their first night at the Bank of NH Pavilion or you want to see them again live for the second time, get your tickets early because they will likely run out really soon. Expect a whopping Wednesday this July 12, and prepare for an incredible show from the one and only Dave Matthews Band. Get your tickets now!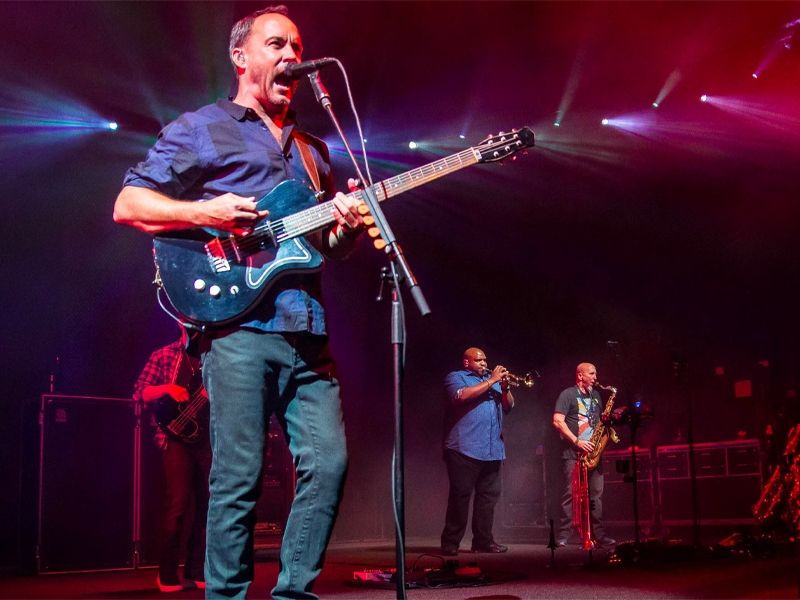 In conjunction with the release of their upcoming album, "Walk Around the Moon," the legendary rock band Dave Matthews Band will take the New Hampshire's Bank of NH Pavilion for a two-night concert event. The album, which will be released in May, is the band's 10th studio album, following their 2018 project "Come Tomorrow." According to the DMB, the new album was crafted during the pandemic and contains 12 tracks recorded with producer Rob Evans, including the first single, "Madman's Eyes."
The back-to-back concert on July 11 and 12 in New Hampshire is part of the band's summer tour this 2023. The massive trek will kick off on May 19 in The Woodlands, Texas, following three shows in Mexico. Forest Hills Stadium in New York, Charleston, South Carolina, Noblesville, Indiana, Chicago, Illinois, Gilford, Saratoga Springs, New York, Camden, New Jersey, West Palm Beach, Florida, and Irvine, California are among the other stops on the tour. The 25-date tour will conclude at Gorge Amphitheater in George, Washington, on September 1-3 on the band's annual three-day Labor Day celebration.
Formed in the early 90s, the band is well-known for their exhilarating live shows and the unpredictability of their live shows. With over 25 million tickets sold since their inception, the band is considered the second-largest ticket seller in history. In addition, the band has sold over 38 million records, making them one of the most sought-after bands in history. On top of that, Dave Matthews band won a Grammy in 1996 for "Best Rock Vocal Performance by a Duo or Group" for their hit song "So Much to Say."
If you want to be a part of this massive music celebration, this is your chance to score your tickets early. Click the "Get Tickets" link to reserve the best seats in the venue.