Bank of NH Pavilion | Gilford, New Hampshire
Alright! We need more than some Beers and Sunshine this summer. If you're like us, and you need some good country music to welcome fall with some rays of optimism, then a Darius Rucker concert is definitely for you. Head to the Bank of NH Pavilion this Sunday, September 4, for a show that will wrap up your summer with a big smile on your face. Who wouldn't? Darius Rucker is known to possess a warm, velvet-like croon capable of conveying unbridled joy to listeners. So you are definitely in for a treat. With special guests Jameson Rodgers and Elvie Shane, Darius Rucker will give you one of the best country concert experiences you'll have this year. So don't hesitate to hit that "Get Tickets" button to order your tickets now!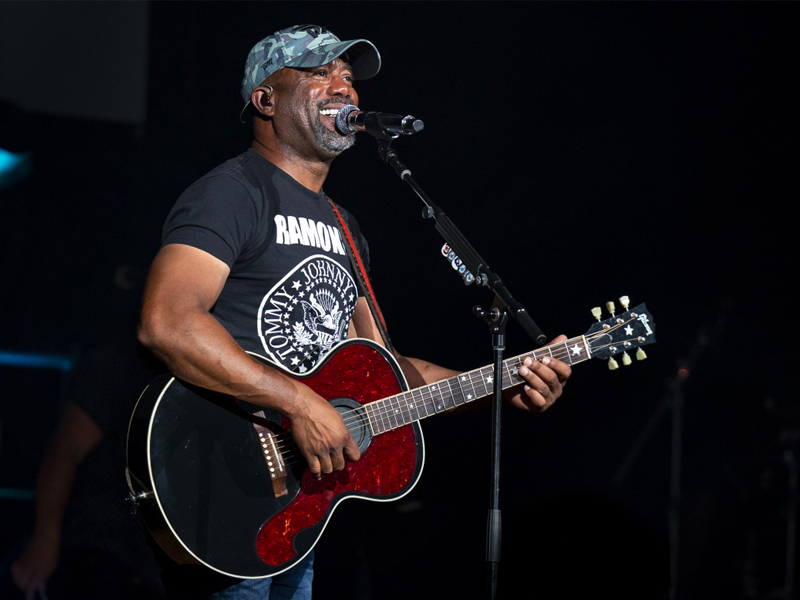 A country artist crossover from a rock band "Hootie & the Blowfish," Darius Rucker made a name as a solo artist when he was signed to Capitol Nashville in 2008. He released his first country album that year entitled "Learn to Live." Its first single, "Don't Think I Don't Think About It," made him the first black artist to reach number one on the Hot Country Songs charts since Charley Pride in 1983. With its success, the album reached platinum status in 2009. The album's next two singles, "It Won't Be Like This For Long" and "Alright," also hit the top of the charts, making Rucker the first country music singer to have his first three singles reach number one since Wynona Judd in 1992.
Darius Rucker continued to thrive in the country music scene by releasing four successful albums from 2010 to 2017. His 2013 album "True Believers" helped him add another Grammy to his collection. The song "Wagon Wheel" earned him a win in the best country solo performance category in 2013. His 2015 album "Southern Style" was another success, lifted up by songs like the title track and "Homegrown Honey. His most recent effort, 2017's "When Was the Last Time," was a success and was noted by critics for Darius vocal performances on "Story to Tell" and "Another Night with You" while calling "Straight to Hell" the "rowdiest country he's ever done."
Although his latest album was released only in 2017, the country star has hinted that he is back in the studio working on his first new solo album. And with new music expected to arrive soon, Rucker is heading out on tour. He will stop at Golford's Bank of NH Pavilion on September 4 (Sunday.) He will be joined by American country singers Jameson Rodgers and Elvie Shane.
Jameson Rodgers is a musician signed to Columbia Nashville/River House, whose debut single "Some Girls" charted on the Country Airplay chart. He is also known for his single "Cold Beer Calling My Name," which featured the country star, Luke Combs. Elvie Shane, on the other hand, is a country newcomer who is known for his singles "Country Roads" and "My Boy." The latter peaked at number 1 in the US Country Airplay. These two will surely make Darius Rucker's concert this September more exciting. So book your tickets now to get a hold of this event.