Bank of NH Pavilion | Gilford, New Hampshire
If you are looking for refreshing but, at the same time, nostalgic entertainment, you should see the Dave Matthews Band when they perform at the Bank of New Hampshire Pavilion on July 11. With 25 years' worth of music, blending genres of rock, jazz, funk, and folk, they have earned a place among the best rock bands in music history. Bringing their newest album, "Walk Around The Moon," to the stage, their fans will surely feel warm on the inside. Furthermore, it will not be a DMB concert without their spectacular improv jams and fiery energy. We can't get enough about what surprises they might bring to this concert. Probably exciting new songs and a sing-along with their greatest hits like "Ants Marching" and "Crash Into Me"! Save yourself the burden and click the "Get Tickets" link to buy tickets now!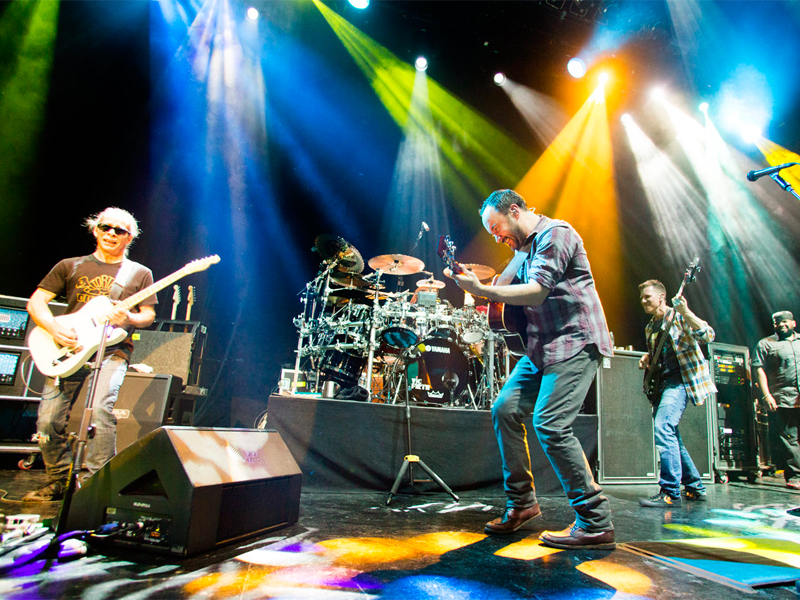 Dave Matthews Band, or DMB, is the '90s go-to rock band. Founded by Dave Matthews, Stefan Lessard, Carter Beauford, Boyd Tinsley, and LeRoi Moore, the band soared high with their music that blends rock with jazz, folk, and funk. The band is a household name not just because of their albums but also because of their live performances. Like their predecessor, the Grateful Dead, they are a jam band whose popularity was boosted through extensive tours and word of mouth.
The band's first album came out in 1994, entitled "Under the Table and Dreaming." This release was dedicated to mourning Matthew's sister, who died tragically. The release was a huge hit, selling over four million copies due to the success of the singles "Ants Marching" and "Satellite." In 1996, "Crash" followed suit and instantly received platinum certification. With an ambition to go bigger, the band released their third album, "Before These Crowded Streets," in 1998, accompanied by their then-largest tour. Successfully, it topped the Billboard 200 charts, breaking the streak of the Titanic soundtrack. After three years, they returned with "Everyday" in 2001, which became that year's fifth best-selling album. Through the 2000s and 2010s, their music continued to top the Billboard 200, with "Come Tomorrow" (2018) being their seventh consecutive album peaking at the chart — the first band in music history to achieve so. Their most recent album, "Walk Around The Moon," came out this year.
In their summer tour, the rock band legend will be visiting the Bank of New Hampshire Pavilion on Tuesday, July 11. Buy tickets now to reserve seats!