Bank of NH Pavilion | Gilford, New Hampshire
Rock fans can look forward to a fantastic month this September because the unprecedented chart-topping rockers, Shinedown, will embark on a highly-anticipated North American Tour! The Florida-born quintet consistently receives wide critical acclaim on their current spring tour, and several shows have sold out! This fall, the band adds several more dates due to public demand! Luckily for New Hampshire fans, Shinedown isn't done conquering the nation with their highly-regarded hits! On Tuesday, 19th September 2023, the band will make a coveted stop at the Bank of NH Pavilion with special guests Papa Roach and Spiritbox! Fans can look forward to a myriad of iconic rock staples, such as "Get Up," "How Did You Love," "Attention Attention," "Monsters," and "Devil." Besides older hits, the upcoming event will also feature songs from the band's album Planet Zero! If you want to see Shinedown tear it up at the Bank of NH Pavilion, you better hurry and score tickets now!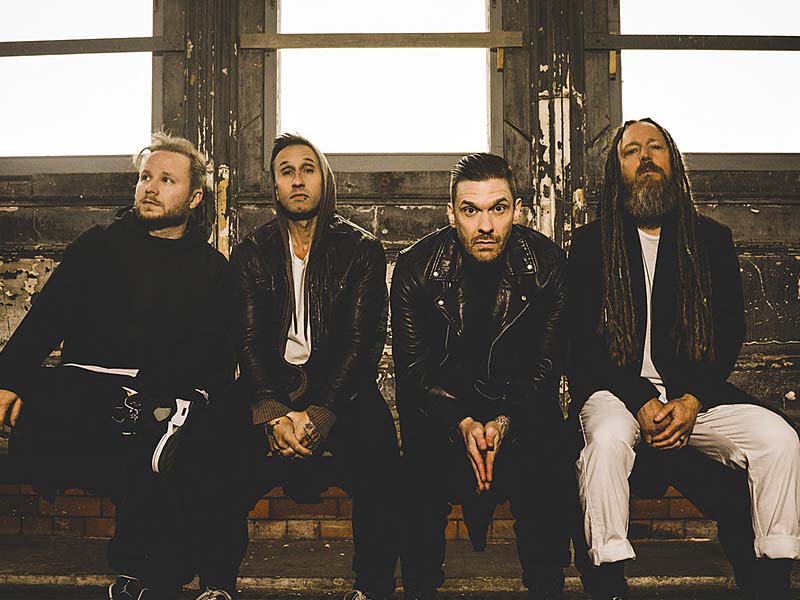 Shinedown recently dropped their latest single, "A Symptom of Being Human." The song stemmed from their 2022 studio effort, Planet Zero, which peaked at number 22 on Billboards Adult Pop Songs. After two decades of releasing music, the single is their fifth entry on the chart after the number 1 hit "Second Chance," "If You Only New," "Get Up," and "Daylight." These songs are a stark contrast to the band's usual releases. For instance, "A Symptom of Being Human" is a compelling ballad with acoustic guitar, piano, and symphonic elements. The single is a breath of fresh air for a band that consistently performs on the Mainstream Rock charts since 2003.
When it comes to producing a hard-hitting rock song, Shinedown has the formula down to a T. In 2003, their debut single, "Fly from the Inside," entered the Mainstream Rock chart, peaking at number 5. Since then, almost every single they drop performs phenomenally on the chart. Two years after their stellar debut, the band achieved their first number 1 Mainstream Rock single with" Save Me." The gold-certified hit, spawned from their 2005 effort Us and Them, was also Shinedown's first entry into the Billboard Hot 100. In 2008, Shinedown's third album, The Sound of Madness, featured five singles that ranked number 1 on the Mainstream Rock chart, including their most famous hit, "Second Chance." The triple-platinum certified single entered five Billboard singles charts, including peaking at number 7 on the Billboard Hot 100.
Shinedown brings along nu-metal-tuned alternative rock band Papa Roach. The band's first claim to fame was their 2000 album, Infest, which entered the charts in 14 countries, including peaking at number 5 on the U.S. Billboard 200. The album spawned several rap-metal staples, like "Last Resort," "Broken Home," and "Between Angels and Insects." This 2023, Papa Roach will be promoting their latest album, Ego Trip, released via Noize Records last year.
Speaking of new albums, Canadian heavy metal outfit Spiritbox is also on the road to support their 2021 effort, Eternal Blue. The album performed relatively well after entering four Billboard charts, ranking number 1 on the Top Hard Rock and Top Rock Albums. Besides the U.S., the record also entered the charts in seven countries, including Canada.
Catch Shinedown, Papa Roach, and Spiritbox as they share a stage at the Bank of NH Pavilion this September!