Bank of NH Pavilion | Gilford, New Hampshire
English singer-songwriter, Louis Tomlinson, is making his big return to the live stage as he debuts his new record "Faith in the Future" on the live stage. Kickstarting a tour in support of his new album, the "Back to You" and "Bigger Than Me" singer is dropping by the stage at Bank of NH Pavilion on Saturday, 27th of May 2023 to share his biggest hits and new songs off of "Faith in the Future" live on stage. With a new sonic direction and strength to take on his career in music, Tomlinson is set to shine bright this 2023. Don't miss out on the Faith in the Future 2023 Tour by booking your tickets now!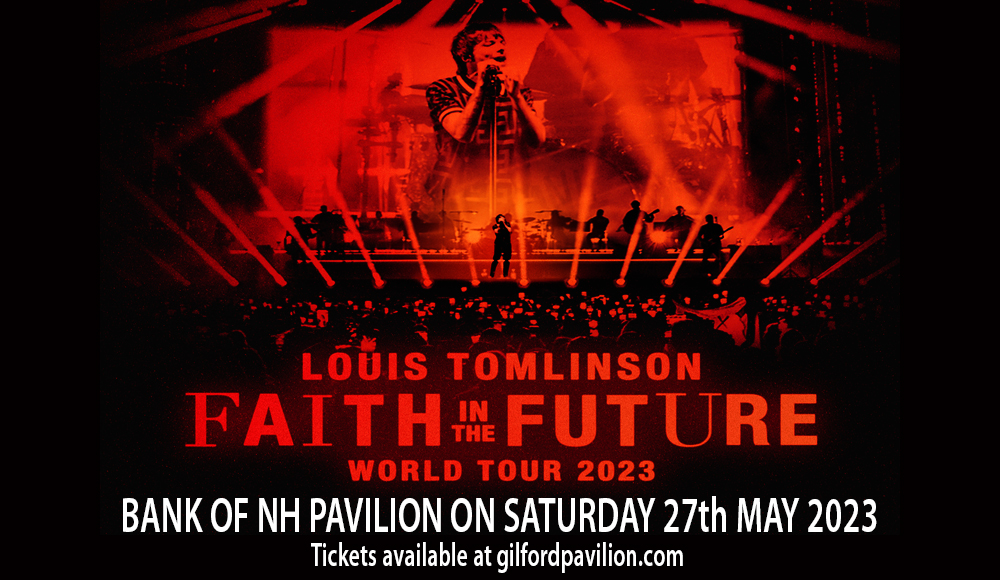 One of the members of the global-hit boyband, One Direction, just launched their sophomore solo album, exploring new sonic heights amidst a journey of rediscovering his own sound. Louis Tomlinson recently shared his new album "Faith in the Future", exploring songs of newfound strength and hope, showcasing his growth as an artist. The record features his singles "Bigger Than Me", "Out of My System", and "Silver Tongues". With a big tour in support of Faith in the Future, Tomlinson just announced a string of shows across the country.
"Really really excited to finally announce the North America tour," he shared on Twitter. "These songs were created for these moments and I can't wait to share them with you!"
As the man wraps up the year with intimate shows in NYC and London, Tomlinson shared with Alternative Press – "I know every artist says this, but I've got a deep fucking connection with my fans. I think of it as one entity,". He recently debuted songs from the new album in his NYC gig. During his set in that special show to celebrate the release of his new record, he said, "I would not be able to make this record without all of your support. I stand upon this stage and think of what's to come and feel really fucking confident and really fucking proud, and that's all thanks to you."
The album holds a special place in Tomlinson's heart as he took the time to carefully craft its songs, embracing his desired identity as an artist. Throughout his solo career, Tomlinson faced struggles when it came to exploring his artistry, experimenting with different sounds, and such. This time around, he's stronger and bolder than ever with a newfound faith in this life.
"I just wanted to embrace what I love musically," Tomlinson tells Rolling Stone in an interview. "There's a different kind of love for every song. It's not all trying to be a single."
"Faith in the Future" includes rock-induced anthems "Bigger Than Me" and "Out of my System", exuding a new kind of energy for his listeners and fans. This is definitely something to look forward to on the big tour.
"It was my first moment of excitement making this record, and where it felt we were on to something which honors the live show," he shared about his single "Bigger Than Me". "I realized from doing those live shows what it means to my fans and how everything I do is bigger than me,"
In an album review by The Honey Pop, they hail the album as "A Masterpiece of Artistry". Having dedicated his craft reflecting how he wants to grow musically, Faith in the Future is a testament to Louis' authenticity and maturity. It isn't about putting out a #1 single based on what's trendy, it's about being the Louis Tomlinson that fans came to love – for who he is.
Having started his solo career in 2016 following his band's indefinite hiatus, he released his first solo debut single "Just Hold On" with Steve Aoki. The following year, he dropped another hit track "Back to You" featuring Bebe Rexha and Digital Farm Animals.
In January of 2020, the man finally released his highly anticipated debut album "Walls". The record featured his singles "Miss You", "Two of Us", and "We Made It", among others.
With a new record deal signed with BMG, Louis Tomlinson set foot on a journey of rediscovering his sound and embracing his desired identity as an artist. With newfound hope, all his hard work came in the form of a hit new album "Faith in the Future".
Don't miss out on Louis Tomlinson's big new era live on stage this coming year at the Faith in the Future 2023 Tour by booking your tickets now!