Bank of NH Pavilion | Gilford, New Hampshire
As the days go by, and places across the country come back to life, the touch of music always made everything better. It certainly does get better as the legendary country star hitmaker, Keith Urban, is charging his way up to the stage at the Bank of NH Pavilion on Sunday, 24th of July 2022 on his "The Speed of Now World Tour". The superstar won the hearts of country-pop listeners worldwide with captivating and heartwarming hits such as "Somebody Like You", "You'll Think of Me", "The Fighter" featuring Carrie Underwood, "We Were Us" with Miranda Lambert, "Blue Ain't Your Color", and many more! You'll be definitely thinking of his magnetic charm as he strums his guitar and serenades you as he sings lyrics of chart-topping, crowd-favorite hits live on stage. Keith Urban sets the pace as he speeds around the globe on his first world tour after four years. So, speed up and book those tickets now!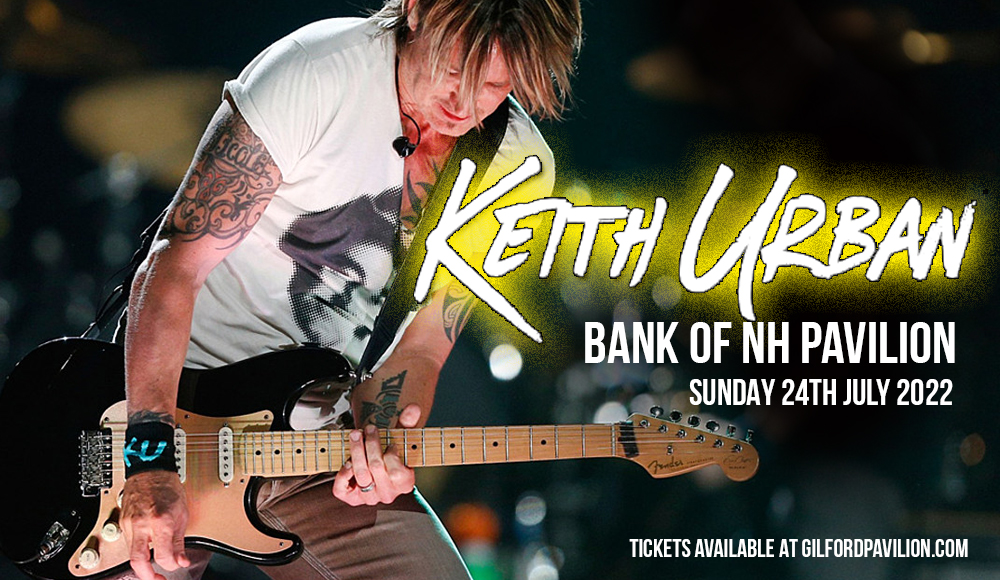 Keith Urban just recently served his eleventh studio record "The Speed of Now Part 1" last September of 2020 with "We Were" as its lead single, a track that reflects on the wonders of youth as he explained, "I like the idea that life just happens… you just gotta go with it". By August of 2021, the country star dropped a new single "Wild Hearts" from his upcoming album, an ode of pursuing and manifesting-dreams, hinting at a childhood memory of watching Johny Cash live on stage with his dad. "This goes out to the drifters and all of the dreamers ready to fly" as Urban sings.
The dream started in 1983 as Urban became a contestant on an Australian talent TV show and then entered the Australian country music landscape with TV appearances. By 1990, he signed a record deal and released his debut album, Keith Urban. His single "Your Everything" propelled him to become the first New Zealand male artist to take a spot on the Top 10 of the US country charts. Across his discography, Keith has seven certified-platinum albums, with countless awarded singles through the decades.
With that hypnotizing smile, laid-back T-shirts, and jeans, with a guitar strapped around his body, Urban never fails to amaze fans as he sings his magnetic lyrics that capture the heart. No wonder fans can't get enough of his chart-topping singles and fan-favorite hits such as "Without You", "Kiss a Girl", "Somebody Like You", "We Were Us", "Parallel Line", "We Were", "Coming Home", and many many more!
Keith Urban says that first and foremost, he is a live performer, and fans couldn't agree more as the experience is never complete without hearing and seeing the country superstar live on stage as he gazes through the crowd singing along his charming lyrics as he plays the strings of his guitar. "It's what I've always done and it's what my music needs to live and breathe" – that's for sure as fans can do whatever they want with music that brings them life.
Get ready to sing, vibe, jump, or even dance as you catch Keith Urban live on stage. It's gonna be a night of your favorite hits and new music the star hasn't played live before. Hurry, and speed up by boking those tickets now!