Bank of NH Pavilion | Gilford, New Hampshire
Quick, grab some tickets now, one of the all-time great bands of the 1970s and 1980s, comes to Bank of NH Pavilion on Saturday, July 1st 2023. Chicago, like many other start out bands, are a conglomeration of personnel from other bands to make up the band, and they also went through the wringer of changing their name once or twice, before settling on the name Chicago. But they are well and truly back, and have a brand-new album due this very summer, catch a peak at it with their latest song, "If This Is Goodbye" down below.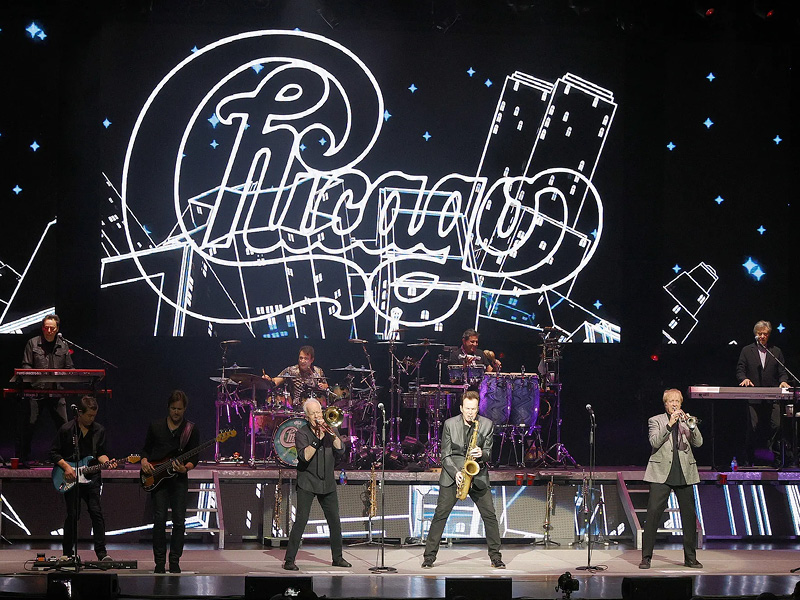 Chicago is an American rock band, formed in Chicago, Illinois, in 1967. It grew from performers from several other bands, playing in the Chicago area in the late 1960s. Chicago's songs often combine elements of classical music, jazz, R&B, and pop music. The band has become one of the longest-running and most successful rock groups, worldwide, and is considered, in the music industry, as one of the world's best-selling groups of all time. Chicago's music has been used in the soundtracks for movies, television programs and commercials. Their all-time great hit, "If You Leave Me Now" has been used in no less than 8 films, television series and TV commercials.
During the 1990s and, Chicago toured America fairly extensively, with Earth Wind and Fire and The Doobie Brothers. In 1991, their music and performing career now spanning a mere 24 years, they had released 21 albums. Then followed a 15-year break from album releases.
The band's music has, for a long time, been the staple of marching bands in the U.S. Over the duration of their performing career of 55 odd years, the band has sold more than 100 million records. They have had five consecutive number-one albums on the Billboard 200 and 20 top-ten singles on the Billboard Hot 100. Chicago was the first rock band to perform to a sell-out Carnegie Hall, for a week. Chicago has sold over 40 million units in the U.S., with 23 gold, 18 platinum, and eight multi-platinum albums. The group has received ten Grammy Award nominations, and the band received a Grammy Lifetime Achievement Award in October 2020.