Bank of NH Pavilion | Gilford, New Hampshire
If your diggin' for some 90s nostalgia, stand by for the tour that would come cruising to this side of town. TLC & Bone Thugs N Harmony would throw you back in time with a concert happening in the here and now at the Bank of NH Pavilion on Friday 17th September 2021. Relive that incredible feeling of being CrazySexyCool as TLC dishes out the monster hits from this legend of an album. "Creep", "Waterfalls", "Red Light Special", and "Diggin' on You" are immortal songs, indeed. CrazySexyCool is all but 27 years old, yet every beat reverberates as fresh as if it was first heard on the radio. Joining TLC on the road is an equally illustrious artist — Bone Thugs N Harmony. Brace yourself for an explosive show as this concert will shoot and open fire with nothing but the hits from start to finish. Lock in the date and load up on tickets. Book your tickets now!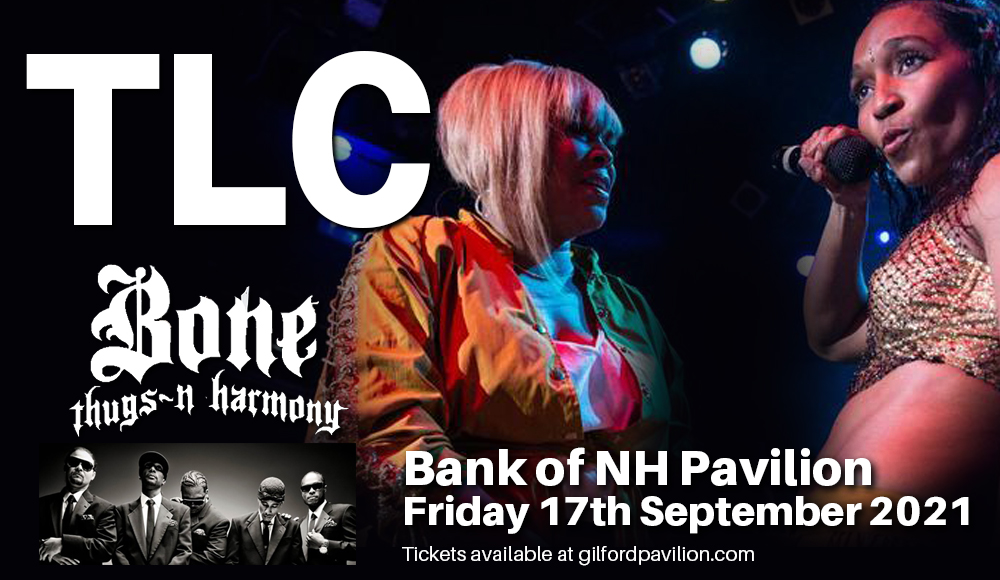 The 90s nostalgia picture would not be complete without TLC's CrazySexyCool. Both commercially successful and critically acclaimed, Rolling Stone ranks it among the 500 Greatest Albums of All Time. TLC has been certified as the best-selling American girl group. VH1 ranked TLC as the greatest female group, placing them at number 12 on the list of 100 Greatest Women in Music. Billboard magazine ranked TLC as one of the greatest musical trios, as well as the seventh-most successful act of the 1990s. And one pivotal album that fanned the fire of fame and fortune for the group was CrazySexyCool.
CrazySexyCool spawned four singles that reached the top five on the Billboard Hot 100. "Creep" and "Waterfalls" skyrocketed to number one, "Red Light Special" peaked number two, and "Diggin' on You" got into the top five.
Aside from chart success, this album also gave TLC some of their most significant awards The music video of "Waterfalls" made TLC the first black act to win the MTV Video Music Award for Video of the Year. They also took home the Best R&B Album and Best R&B Performance by a Duo or Group for "Creep" in the 38th Annual Grammy awards; while Billboard also crowned TLC as the Artist of the Year at the 1996 Billboard Music Awards.
The press media lauded their refreshing presence and their driving influence in the future. Vibe believed that there would be no "all-black female R&B group having a chemistry, cultural and commercial impact as remotely comparable as TLC" and dubbed CrazySexyCool as "the blueprint for female ensembles to follow".
Chilli states, "I'm so excited for this tour because we've been talking about doing something special for CrazySexyCool for years and FINALLY, we get to do it! This is the album that truly put us on the map and showed the world who we really are. So, this will be quite the celebration!"
Hip-hop revelry and pure 90s bliss to make you party like it's 1994! Now, who would want to miss that?! All it takes is for you to click that 'Get Tickets' link now!