Bank of NH Pavilion | Gilford, New Hampshire
There was once a time when it seemed that you would never get to experience the iconic guitarist Peter Frampton live on stage again, but guess what? He is BACK!!!. This time it is with the Never Say Never Tour 2023, which will give you another shot at seeing this legend do his thing on stage once again. The trek will see Frampton hit the road in June and stay there until the end of August. Now that his health has improved, fans are excited for what promises to be a landmark performance. His extensive experience in pleasing audiences ensures that you will be both impressed and super-delighted with his performance. This is a once-in-a-lifetime chance, and you shouldn't waste it by delaying. Click the "GET TICKETS" button above to purchase your seats to the show at the Bank of New Hampshire Pavilion on Thursday, July 13, 2023.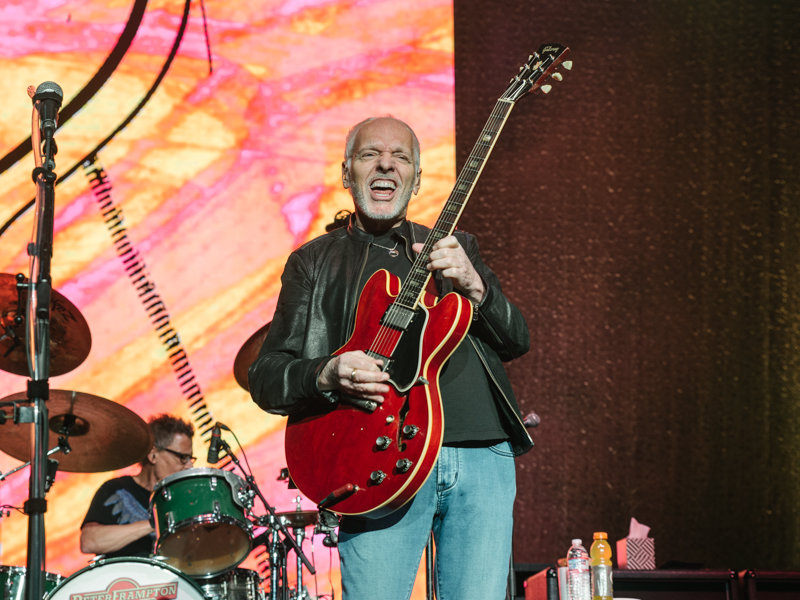 Born in April of 1950 in Kent, UK, to parents Peggy and Owen Frampton, Peter Frampton would go on to become a celebrated artist and musician in the rock music industry. At age 10, he joined a band called The Little Ravens, and he and David Bowie, a classmate and future collaborator, frequently performed Buddy Holly covers. As a matter of fact, Peter's father was Bowie's art teacher.
He first gained attention as a young guitarist for the British group The Herd, which had three top ten singles. In the early 1970s, Peter Drake gave Frampton his first taste of the "talk box," an effect that would become one of Frampton's trademarks on the guitar. Simultaneously, he released Wind of Change, the first album of his solo career; after that, albums such as Camel (1973), Somethin's Happenin' (1974), and Frampton Comes Alive! (1976) also came out.
Between the years of 1970 and 1980, when he was first introduced to the American public, he was awarded a gold record, entered the top 32 of the charts, and received a star on the Hollywood Walk of Fame. Not too shabby, wouldn't you say? But it didn't stop there.
Frampton achieved unprecedented success throughout the 1980s, 1990s, and 2000s with his string of hit albums, his cameo appearance on The Simpsons as himself for The Simpsons Headlining Homerpalooza, and creating the score for the Oscar-winning film Almost Famous.
After years of wowing his legion of followers with new music, tours, and awards, he finally had to call it quits in 2019 due to a degenerative muscle disorder. Luckily, events took a different turn, and he is now touring and ready to perform for his fans once more.
Given his track record of captivating audiences, you know this performance won't disappoint; thus, you should buy your tickets immediately as most of the fans will also want to check him out. Make sure you grab your seats simply by clicking the "GET TICKETS" button and following the prompts. It will one of the best things you get to do all year!!!