Bank of NH Pavilion | Gilford, New Hampshire
The ultimate show for little superstars is back on stage as they launch never-ending fun at the "Never Stop Live Tour". Taking place this summer, the family-friendly ensemble of little pop stars is set to throw the biggest party yet, serving family-friendly renditions of today's biggest pop hits. As 'the party don't start till they walk in, Kidz Bop is set to color the stage at the Bank of NH Pavilion on Sunday, 23rd of July 2023 with the power of music. With astounding clean covers of pop hits including "Levitating", Tik Tok, and "Shake It Off", a Kidz Bop concert never fails to hit hard, specially crafted for the little ones. Book those tickets now!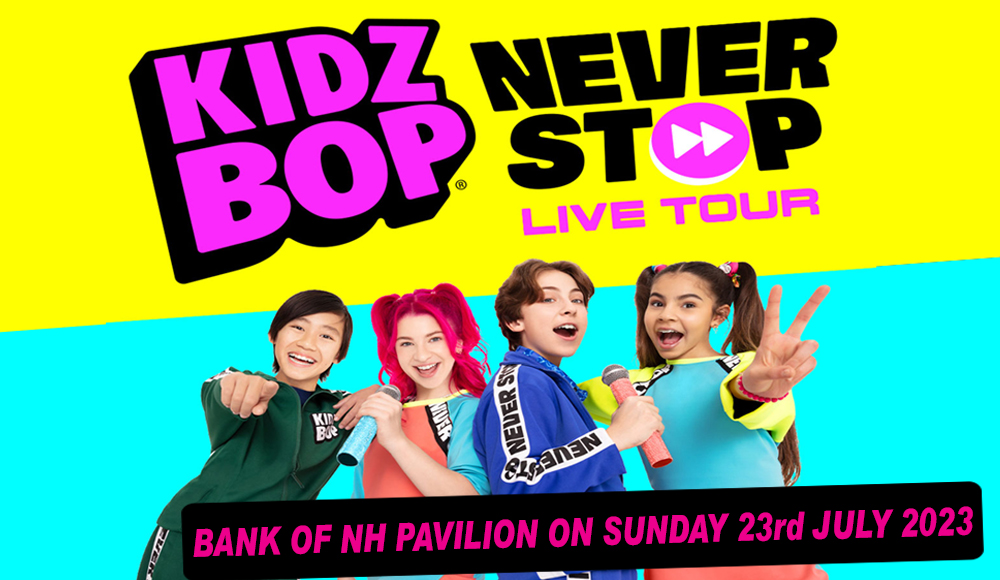 Kidz Bop has become one of the most sought-after children's music bands known for their kid-friendly covers of today's pop hits. The band, launched in 2001, features kids singing and dancing along to family-friendly versions of pop hits such as "Tik Tok", "Levitating", "Old Town Road", "Dynamite", and many more. As the act embarks on its newest "Never Stop Live Tour", they're set to serve never-ending fun as they invite kids and parents to party like never before!
The ultimate family concert experience promises a fun-filled show for kids, led by kids, performing this generation's biggest pop hits. Following their big 2022 Live tour, "Never Stop" promises new set designs, costumes, astounding choreography, and big surprises on tour.
Moreover, the tour will feature four new members of the Kidz Bop family – Jackson, Kiya, Shila, and Tyler. Presented by Live Nation, the Never Stop Tour will bring exciting new elements to Kidz Bop's acclaimed live shows.
"The family-friendly show will feature new songs, choreography, special effects, and the return of the Daddy Dance Off, giving dads the chance to show off their best dance moves on stage," Live Nation shared in a statement. "KIDZ BOP has sold more than 23 million albums and generated over 8 billion streams globally since 2001."
Jumping around and spreading fun across the airwaves since 2001, Kidz Bop has produced young superstars who later on became mainstream superstars as they grew up. Their list of notable alumni includes Ross Kynch, Zendaya, Kiana Brown, and Becky G among others.
To the parents out there, don't miss out on this chance to take your kids on an interactive pop concert experience crafted for the little ones! The show will feature plenty of singing, dancing, and big surprises as the perfect opportunity for kids to experience live music to its fullest. Book your tickets now!