Bank of NH Pavilion | Gilford, New Hampshire
The iconic cowboy hat is back! American country music singer and songwriter Brad Paisley has been on the road since June 2021, crisscrossing cities and states for his summer tour. "It feels so surreal to be back on tour", from a tweet sent by Paisley to his 4.3 million followers. "We've waited over 15 months for this. But, we're back…and we will see you soon in your town." Brad Paisley genuinely missed the stage, and from the crowd's reaction, fans were overwhelmed with his magnetic stage presence as he delivered crowd favorite hits like "Ticks," "So Much Cooler Online," "I'm Gonna Miss Her," "I'm Still a Guy," "Celebrity" or "There's No I in Beer." Brad Paisley is popping in by these neck of the woods. Book yourself a ticket for his show at the Bank of NH Pavilion on Friday 24th September 2021. The 'Get Tickets' sign is on. Get started on clicking that ticket link now!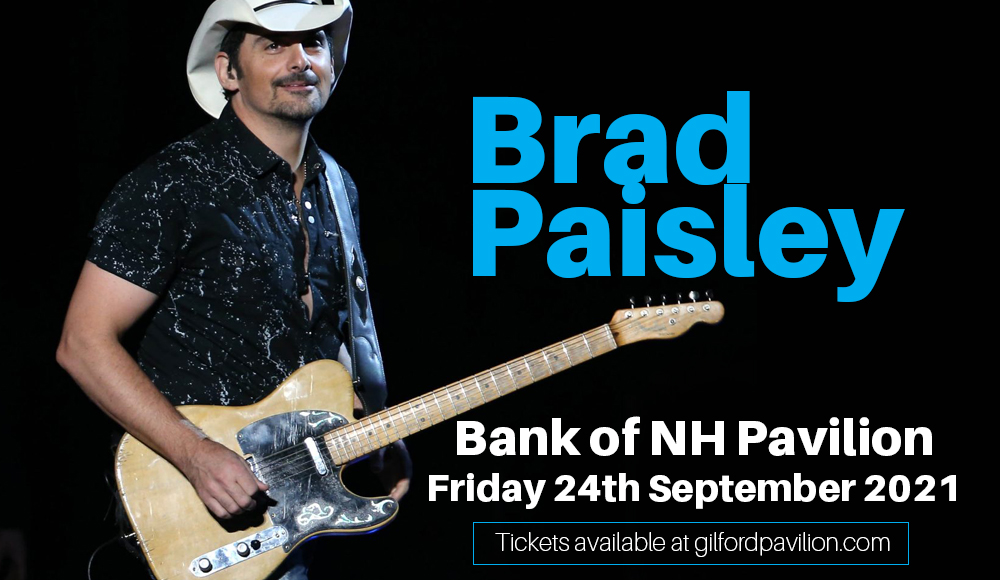 Some may say that getting your debut album out at the age of 23 amounts to missing a lot of opportunities. But such is not the case for Brad Paisley. Paisley's career zoomed at such a rapid pace that his 1999 debut album 'Who Needs Pictures', set the wheels into motion for the commercial success and critical acclaim that awaits this singer-songwriter from Glen Dale, West Virginia.
By February 2001, Brad Paisley's debut album was certified platinum, spawning the hits the No. 1 hit "He Didn't Have to Be", produced a Top 20 hit with "Me Neither", then scored his second number 1 hit, "We Danced". Yet prior to that, Paisley was reaping major music awards, winning the Country Music Association's (CMA) Horizon Award and the Academy of Country Music's best new male vocalist trophies. He received his first Grammy Award nomination a year later for Best New Artist. On February 17, 2001, Paisley was inducted into the Grand Ole Opry.
Brad Paisley's illustrious standing continued to soar as he scored 32 Top 10 singles on the US Billboard Country Airplay chart, 19 of which have reached number 1. He set a new record in 2009 for the most consecutive singles (10) reaching the top spot on that chart. He has sold over 11 million albums to date and has gone home with three Grammy Awards, 14 Academy of Country Music Awards, 14 Country Music Association Awards, and two American Music Awards.
Brad Paisley's star best shines on stage with and for his legions of followers. And he also values the people behind the scenes who make his memorable shows possible. "It's been a real difficult year, a nightmare for anyone who makes their living with a group of people," he said in a statement. "I feel very passionate about the chance we have for normalcy right now with the vaccine — there's light at the end of the tunnel. I have a band and crew just waiting to get back out on the road. The more of us that Take the Shot the safer it will be for all of us to gather."
Take the shot to see Brad Paisley in action. Book your tickets now!